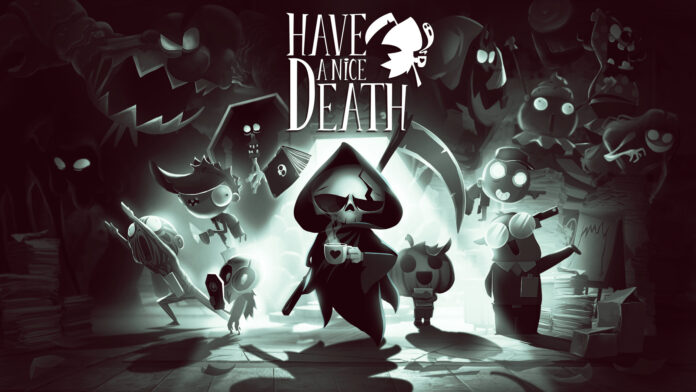 Im Frühjahr diesen Jahres durften wir Euch in die Untiefen der Hölle geleiten. In unserem Test schnitt das Action-Adventure "Have a Nice Death" berechtigt richtig gut ab. Ebenfalls konnte der stressige Alltag des Höllenfürsten auch die Gamergemeinde begeistern. Für alle, die das geniale Spiel bisher verpasst haben und insbesondere die Sammler unter Euch dürfen sich nun freuen. Via X (ehemals Twitter) kündigte Publisher Gearbox Publishing nun die Physische Version von "Have a Nice Death" an.
🪦 Death is knocking at your door!
Pix'n Love, Magic Design Studios and Gearbox are pleased to announce the imminent arrival of the ghoulishly delightful roguelike HAVE A NICE DEATH in physical edition on #NintendoSwitch 💀

👉 More info (and surprises!) coming soon. Stay tuned! pic.twitter.com/bPrFAc942y

— Pix'n Love Games (@pixnlove_games) October 11, 2023
Zwar bleibt uns Pix'n Love Games noch das genaue Erscheinungsdatum schuldig, allerdings ist gerüchteweise noch von "diesem Jahr" die Rede. Auch ist über die Homepage von Pix'n Love Games noch keine Vorbestellung möglich. Dem frisch veröffentlichten Bild jedenfalls ist zu entnehmen, dass die physische Version von "Have a Nice Death" neben dem Spiel ein stylisches Wendecover sowie ein umfangreiches Booklet enthält. Daneben ist noch von "weiteren Überraschungen" die Rede.
Mehr Informationen sollen in Kürze folgen. Wir halten Euch natürlich ebenfalls auf dem Laufenden.
Quelle: Pix'n Love Games via X