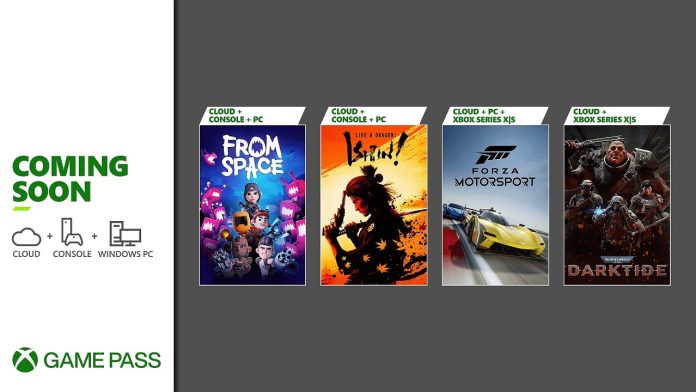 Mit Xbox Game Pass Oktober 2023 hat das Warten endlich ein Ende und wir dürfen uns wieder ans Steuer der denkbar schönsten Autos setzen. Mit der Ultimate Mitgliedschaft könnt ihr das neue Forza Motorsport in der Cloud, auf dem PC, Xbox Series X und Series S ausprobieren.
Xbox Game Pass Oktober 2023
Ab sofort:
Ab 12. Oktober:
Ab 17. Oktober:
Diese Titel verlassen das Angebot am 15. Oktober:
Bevor die Titel den Katalog verlassen und euch die Spiele gefallen, dann nutzt als Mitglieder des Game Pass den Preisnachlass von 20 Prozent.
Eville (Cloud, Konsole und PC)
Overwhelm (PC)
Shenzhen I/O (PC)
The Legend of Tianding (Cloud, Konsole und PC)
Trek to Yomi (Cloud, Konsole und PC)
Turnip Boy Commits Tax Evasion (Cloud, Konsole und PC)
DLCs und Updates
Jetzt verfügbar – EA Sports NHL 24: Early Access Trial
Jetzt verfügbar – Sea of Thieves: The Legend of Monkey Island – The Lair of LeChuck
Xbox Game Pass Quests
Neue Quests findet ihr auch im Oktober im Xbox Game Pass-Bereich auf eurer Konsole oder in der Xbox Game Pass Mobile App. Löst Microsoft Reward-Punkte ein oder sammelt diese. Diese Aufgaben für diesen Monat stehen natürlich, passend zu Halloween, im Zeichen des Grusel und Schocks!
State of Decay 2: Juggernaut Edition (250 Punkte – Nur Ultimate) – Töte 75 Zombies
Spiele Amnesia: The Bunker (5 Punkte)
Quest Completionist (500 Punkte) – Schließe 22 Daily und 12 Weekly Quests ab
> Die Liste aus September 2023.
Startet die Motoren mit dem Forza Motorsport Launch Trailer.