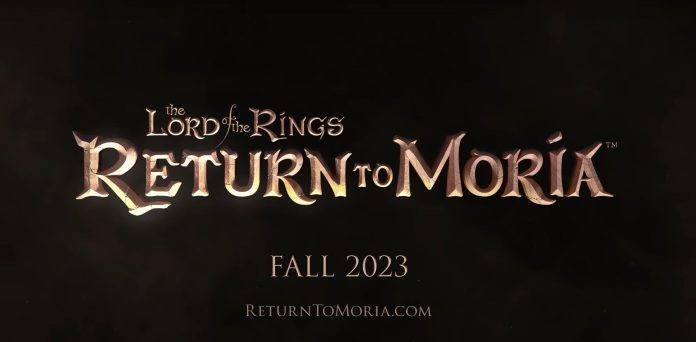 Wer als Tolkien-Fan zuletzt ein wenig beschämt zu Boden sah, wenn jemand das Wort Gollum laut aussprach, der sollte jetzt aufhorchen: mit "The Lord of the Rings: Return to Moria" bekommen Kenner von Mittelerde in Kürze endlich wieder vielversprechende neue Spielekost.
Denn in Return to Moria kehren unser aller Lieblinge, die grimmigen, bärtigen und elbenhassenden Durinskinder, oder kurz Zwerge, in die namensgebenden Minen zurück.
Der Entwickler Free Range Games verspricht dabei, prozedural generierte Maps, die sich bei jedem Spieldurchlauf stark voneinander unterscheiden sollen. Das klingt nach ausreichend Abwechslung und erinnert uns an die generierten Maps von Genreprimus Deep Rock Galactic.
Denn unser Minenausflug lässt sich nicht nur solo absolvieren, sondern bietet auch die Möglichkeit, das komplette Abenteuer mit Freunden zu bewältigen. Auch soll Licht, ähnlich wie in DRG, eine wichtige Rolle spielen, um die Dunkelheit erhellen und Gegner auf Distanz zu halten.
Was gibt's in Moria zu sehen?
Neben einigen Gemeinsamkeiten zum eben erwähnten Zwergenvettern, soll Return to Moria aber auch ganz eigene Ideen in das Genre mitbringen. So wird zum Beispiel eine gehörige Prise Sandbox-Survival mit ins Spiel gemischt. Der Spieler, Verzeihung Zwerg, möchte neben dem Abbau von Ressourcen auch regelmäßig Essen und Schlafen. Währenddessen liegt die ständige Bedrohung durch Orks oder noch ältere, gemeinere Kreaturen in den Tiefen von Khazad-dûm in der Luft.
Zudem soll man beeindruckende Zwergenbauten aus dem Boden stampfen dürfen und zusätzlich dann eigene Waffen und Rüstungen herstellen können.
Wer nun neugierig geworden ist und sich in die Tiefen von Moria wagen möchte, muss sich nicht mehr lange gedulden.
The Lord of the Rings: Return to Moria wird ab dem 24.10. für den PC im Epic Games Store und für die Playstation für 36€ zu erstehen sein.