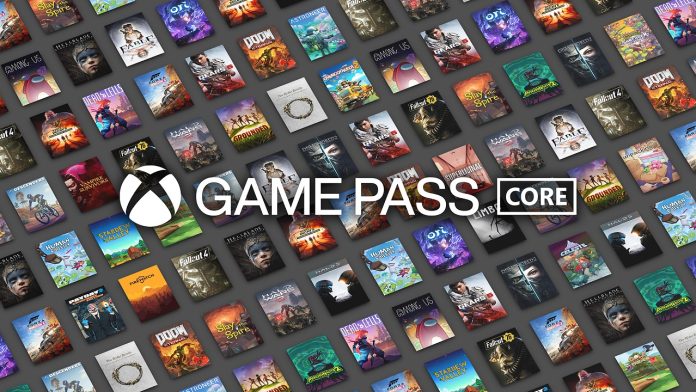 Game Pass Core ist der neue Service, welcher den früheren Service Xbox Live Gold ablöst. Er bietet das gleiche Online-Erlebnis und zusätzlich eine Spielebibliothek. Der Service ist ab sofort für Xbox Series X, Series S und Xbox One zu einem Preis von 6,99 Euro pro Monat verfügbar.
Game Pass Core
Profitiert von dem Zugang und probiert den Singleplayer Fallout 4 oder den Multiplayer Fallout 76. Durchquere den Hinterhof in Grounded oder reist durch die fabelhafte Welt von The Elder Scrolls Online. In Hellblade: Senua's Sacrifice geht ihr sogar durch die Hölle.
Xbox begrüßt die Spiele, welche über die Partner erhältlich sind. Schaut euch das Roguelike Vampire Survivors an oder springt in das gemütliche Stardew Valley am anderen Ende des Spielespektrums. Außerdem gibt es mit Gang Beasts und Golf With Your Friends ein paar abgedrehte Koop-Spiele im Katalog.
Die Liste zum Start
Among Us
Astroneer
Celeste
Dead Cells
Descenders
Dishonored 2
DOOM Eternal Standard Edition
Fable Anniversary
Fallout 4
Fallout 76
Firewatch
Forza Horizon 4 Standard Edition
Gang Beasts
Gears 5 Game of the Year Edition
Golf with your Friends
Grounded
Halo 5: Guardians
Halo Wars 2
Hellblade: Senua's Sacrifice
Human Fall Flat
INSIDE
LIMBO
Ori & the Will of the Wisps
Overcooked! 2
Payday 2: Crimewave Edition
Powerwash Simulator
Psychonauts 2
Slay the Spire
Spiritfarer: Farewell Edition
Stardew Valley
State of Decay 2: Juggernaut Edition
Superliminal
The Elder Scrolls Online
Teenage Mutant Ninja Turtles: Shredder's Revenge
Unpacking
Vampire Survivors
Hinweis: Die Spielebibliothek kann sich mit der Zeit verändern und variiert von Region zu Region. Die Liste der Spiele soll sich zwei bis drei Mal im Jahr aktualisieren.
> Unsere Vorsehung, dass Games with Gold verschwindet.
Game Pass Core bietet weiterhin die Eigenschaften von Xbox Live Gold. Online-Konsolen-Multiplayer, Angebote und Rabatte (bis zu 50 % Rabatt auf ausgewählte Spiele!) und Zugang zu Free Play Days für ausgewählte Spiele. Zur Erinnerung: Der Preis ändert sich nicht von Gold zu Core. Ihr müsst nichts unternehmen, um eure Zahlung zu ändern oder Anpassungen an der Mitgliedschaft vorzunehmen. Xbox Live Gold-Karten im Einzelhandel können weiterhin gekauft und für Game Pass Core eingelöst werden, solange der Vorrat reicht.