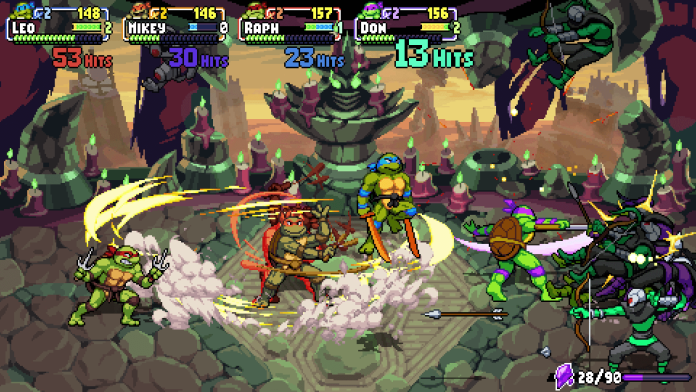 Publisher Dotemu und Entwickler Tribute Games zeigen in einem neuen Trailer den kommenden Survival Mode von Teenage Mutant Ninja Turtles: Shredder's Revenge. Der Modus erscheint im Rahmen des Dimension-Shellshock-DLC. Der neue Trailer und ein ausführliches 11-minütiges PlayStation Underground Video geben einen Überblick über die neuen Möglichkeiten, im DLC, der noch dieses Jahr für PC, Nintendo Switch, PlayStation & Xbox erscheint, ordentlich Prügel zu verteilen.
Über das Dimension-Shellshock-DLC:
Als Teil des vor kurzem angekündigten Dimension-Shellshock-DLCs bringt der Survival-Modus sammelbare Kristalle mit sich. Mit diesen können Spieler zwischen den Dimensionen springen. Dabei hat jede Dimension ein eigenes Aussehen und Spielgefühl.
Das Video zeigt die von Japan inspirierte Edo-Dimension, die Turtles mit 8-Bit Hintergrund sowie Splinter, Casey, April und Usagi im Omnichannel 6.
Der neue Modus ermöglicht es Spieler*innen zwischen den Interdimensionalen Runs stärker zu werden. Wenn sie genügend Kristalle sammeln, können sie ein zusätzliches Leben, Ninjapowerleisten, zusätzliche Lebenspunkte und den "Radical Mode" freischalten. Spieler können Dimensionen auch überspringen. Zudem bringt Dimension Shellshock neue Farben für die Spielfiguren mit sich.
Über Teenage Mutant Ninja Turtles: Shredder's Revenge:
Teenage Mutant Ninja Turtles: Shredder's Revenge erhielt viel Lob für die Furiose Rückkehr des Feelings der 1987-er Cartoon-Serie. Das Spiel war bei den The Game Awards 2022 als Best Action Game und Best Multiplayer, bei den DICE Awards in der Kategorie: Outstanding Achievement for an Independent Game, sowie bei den BAFTA Games Awards in den Kategorien Family Game und Multiplayer nominiert.
In Shredder's Revenge jagen die Turtles Shredder und seinen Schergen hinterher, um seinen neuesten, bösartigen Plan zu vereiteln. Dabei kämpfen sie sich durch ikonische Szenen der animierten Serie, verprügeln bekannte Bösewichte und hauchen nostalgischen Erinnerungen neues Leben ein. Mit den Turtles, Meister Splinter, April O'Neil und Casey Jones prügelt man sich mit bis zu sechs Spieler*innen im lokalen- oder online Koop durch diesen modernen und gleichzeitig nostalgischen Brawler.
Teenage Mutant Ninja Turtles: Shredder's Revenge wird von Tribute Games entwickelt und von Dotemu gepublished. Im letzten Jahr erschien mit der Teenage Mutant Ninja Turtles: The Cowabunga Collection auch eine große Sammlung von TMNT-Spielen.