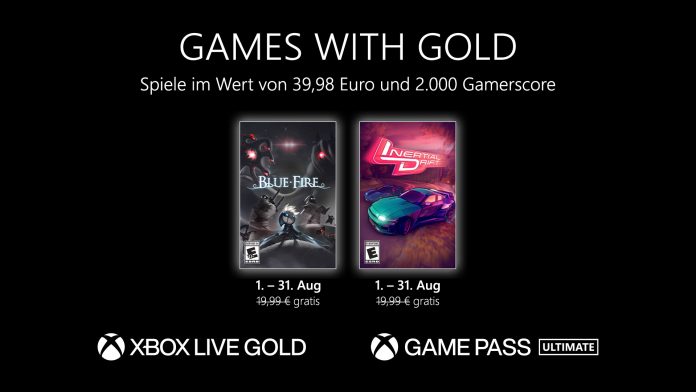 Games with Gold August 2023 bietet euch 2 Spiele für regnerische Sommertage. Dass wäre zum einen der Plattformer Blue Fire und das Drift-Spiel Inertial Drift.
Games with Gold August 2023
Blue Fire verfügbar vom 01. bis zum 31. August.
Böse Mächte haben die Welt von Penumbra übernommen. Ihr werdet als Krieger des Lichts und der Dunkelheit gebraucht! Begebt euch auf eine Reise, um Tempel voller 3D-Platforming-Herausforderungen zu erkunden, wilde Feinde zu bekämpfen und Nebenquests zu erledigen. Meistert die Kunst der Geschicklichkeit, während ihr euch immer schwierigeren Void-Puzzles stellt und die Geheimnisse lüftet, die die Welt retten werden.
Inertial Drift verfügbar vom 01. bis zum 31. August.
Beherrscht ihr den perfekten Drift? Fahrt in diesem Arcade-Rennspiel mit einzigartigem Handling-Modell und Twin-Stick-Drift-Mechanik durch eine 90er-Jahre-Retro-Zukunft. Wählt aus 16 einzigartigen Autos auf 20 wilden Strecken und rast durch die Neonstraßen. Verbessert eure Fähigkeiten in der Einzelspieler-Story und beweist euer Können im Mehrspielermodus.
Wenn ihr derzeit ein Xbox Live Gold-Abonnement habt, wird eure Xbox Live Gold-Mitgliedschaft ab dem 14. September automatisch auf Xbox Game Pass Core umgestellt, ohne dass sich der Preis ändert. Xbox Game Pass Core bietet weiterhin Online-Konsolen-Multiplayer sowie sofortigen Zugriff auf eine neue Bibliothek mit über 25 hochwertigen Spielen aus dem Game Pass-Katalog. Diese könnt ihr ohne zusätzliche Kosten auf der Xbox Series X|S oder Xbox One spielen und erhaltet außerdem Angebote und Rabatte für Mitglieder.
Games with Gold wird am 1. September auslaufen. Ihr könnt weiterhin auf alle Games with Gold-Spiele zugreifen, die ihr zuvor eingelöst habt, solange ihr ein Xbox Game Pass Core- oder Xbox Game Pass Ultimate-Mitglied seid. Wenn ihr derzeit eine Xbox Game Pass Ultimate-Mitgliedschaft habt, könnt ihr mit demselben Plan weitermachen.
> Die Spiele aus dem vergangenen Monat.
Die Vorteile von Games with Gold sind auch im Xbox Game Pass Service enthalten. Über den Link kommt ihr zu dem Abonnement für Konsole und PC, welches 12,99 Euro im Monat kostet.