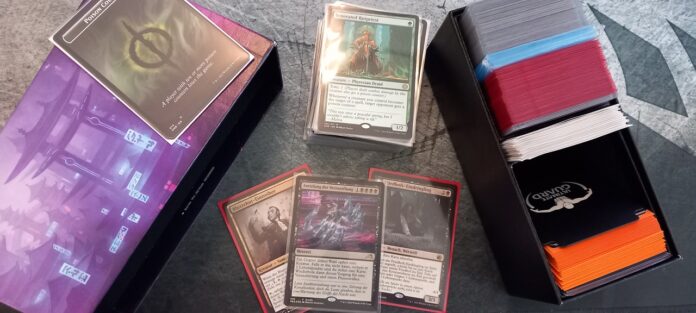 Wizards, das Team hinter Magic: The Gathering, gab vor kurzem bekannt, dass nun drei Karten aus dem Standard-Format gebannt sind. Der Grund für die Sperrung dürfte nicht nur die starken Fähigkeiten der drei Karten sein, sondern auch die Häufigkeit der Anwendung bei Turnieren.
Die gebannten Karten im Standard-Format
Das Standard-Format ist eine spezielle Spielweise, in der meist nur die acht aktuellsten Sets gespielt werden und das ohne Kommandeur-Karten. Zurzeit gehören die Sets ab Innistrad: Midnight Hunt zum Standard-Format.
Folgende Karten sind ab jetzt von der Sperrung betroffen:
Fable of the Mirror-Breaker // Reflection of Kiki-Jiki
Invoke Despair
Reckoner Bankbuster
Ironischerweise sind das drei Karten, welche zum Winner Deck Rakdos Midrange von Nathan Steuer gehören. Über dieses haben wir bereits in einem anderen Artikel berichtet.
> Rakdos Midrange Deckanalyse.
Die Bannung gilt ab sofort für physische Karten-Turniere im Tabletop, Magic Online und in MTG Arena.
Das nächste große Set, welches jetzt in den Startlöchern steht, ist The Lord of the Rings. Eine Kollaboration zwischen Wizards of the Coast und dem gleichnamigen Franchise von John Ronald Reuel Tolkien. Laut eigenen Angaben soll es unter allen englischen Sammler-Boostern weltweit eine einmalige Ring-Karte geben, mit einem einzigartigen Design!
Video zur einzigartigen Karte von Magic: The Gathering TLotR.