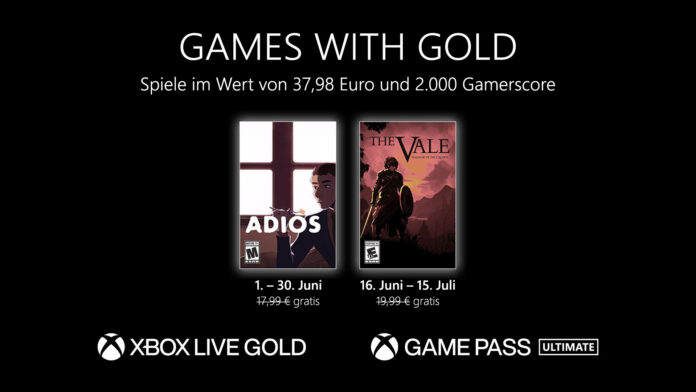 Games with Gold Juni 2023 kommt mit zwei Spielen daher. Zum einen hätten wir das mafiöse Spiel Adios und zum anderen das Abenteuer The Vale: Shadow of the Crown.
Games with Gold Juni 2023
Adios verfügbar vom 01. bis zum 30. Juni.
Eine Entscheidung kann alles verändern. Ihr schlüpft in die Rolle eines Schweinebauers, der nicht länger Leichen für die Mafia entsorgen will. Es folgt eine Diskussion zwischen Spieler und einem Auftragsmörder, der euch tötet, sofern ihr die Entscheidung nicht revidiert. Adios ist ein filmisches Spiel aus der Ego-Perspektive über das Fällen einer schwerwiegenden Entscheidung. Werdet ihr dem Verbrechen auf Nimmerwiedersehen sagen können oder zieht es euch noch weiter in den Sumpf? Finde es jetzt heraus!
The Vale: Shadow of the Crown verfügbar vom 16. Juni bis zum 15. Juli.
Schließt eure Augen und hört einfach zu. The Vale: Shadow of the Crown ist ein einzigartiges Abenteuer, das Sound und haptisches Controller-Feedback zu einem audiobasierten Abenteuer verwebt. Überwindet die Barrieren zwischen euch als Spieler und eurem Charakter, wenn ihr den Atem von Feinden, das Knirschen von Schritten oder das Klirren von Waffen hört. Die Kämpfe sind intensiv und ganz anders als in anderen Action- oder Fantasy-Spielen.
> Die Spiele aus dem vergangenen Monat.
Die Vorteile von Games with Gold sind auch im Xbox Game Pass Service enthalten. Über den Link kommt ihr zu dem Abonnement für Konsole und PC, welches 12,99 Euro im Monat kostet.